How to Financially Survive And Thrive When The 'Sky Is Falling'
There's no denying it. These are uncertain times — inflation is rising, jobs are scarce, 'Big Brother' is getting bigger, the housing bubble is still deflated, and severe civil unrest is becoming the norm.
Editor's Note: The above market truths were observed in 2014, when this commentary was first written. However, at the end of 2018, you can simply replace them with other seemingly 'Chicken Little economic broad-stroke indicators:

i.e., Every major asset class (except cash) is in the red for the year; the U.S. market is feared / hated; fund managers have moved toward "extreme bearishness;" and, in spite of subsided inflation growth, the Federal Reserve ends the year with four interest rate hikes.
Some would even say it's feeling more and more like we're living in George Orwell's 1984.
And, while it's true that the mainstream media thrives on reporting 'bad news,' there also seems to be no shortage of financial experts and analysts out there shoving their dire "the end of America is near" predictions down our throats (except when they're putting out falsely positive unemployment statistics to keep people placated).
Anyone who's been around long enough knows that history repeats itself, and these 'Prophets of Doom' were saying the same kinda things back in the 1970s when we had a war, a recession, an energy crisis, and out of control inflation.
Editor's Note: Speaking of history: As StockTwits reports:

1. Since its beginning, the stock market has averaged at least one 14% drop, from peak to trough, per year.

2. Daily dips of 2% or more happen, on average, at least 5 times per year.

3. Roughly every 5 years there is a major panic (for whatever reason) that leads to a 30% correction.

4. 2017 was one of the calmest years on record for the stock market. 2018 is a reminder of what can actually happen.

5. Cash positions are important because it allows investors to buy dips and act as a "lender of last resort" to those who want to panic sell.
For years, a select group of copywriters have used fear-mongering tactics to sell subscriptions to their financial newsletters.
They only know how to play one tune: create a sense of sensationalism and urgency by inundating people with scary-sounding uncertainties until they say, "Thank God we've got you, Mr. Doom-n-Gloom, to tell us how we can save ourselves from the impending financial Armageddon!" — for a hefty fee!
They may have some people fooled, but we both know that during previous times of crisis, the economy didn't implode, and the world didn't come to an end (2012 anyone?).
Life went on.
Don't get me wrong… I'm not suggesting that you should just bury your head in the sand like an ostrich and pretend everything's okay when it's not.
And, I'm in no way downplaying the severity of certain situations many people are facing today.
But, if you truly want to financially thrive and not just survive, you've got to THINK differently than most people.
As social animals, we crave conformity.
Trying to fit in is easy and comfortable. If everyone else is doing something then it must be OK… just go with the flow, follow the majority, and presume all will work out.
The problem with that kind of mentality is the herd (the large majority of people who don't have a clue yet) is usually WRONG nine times out of ten.
And, we all know what happens to the herd at the end of the grazing…
Yup, they get slaughtered.
My point is this…
Fear sells… but, YOU don't have to buy it!
During the Great Depression of the 1930s, things were much worse than they are today. Yet, more millionaires were created during that period than any other time in U.S. history.
When the herd was too busy focusing on despair and the bad news of the day, savvy speculators chose to look for opportunities where others saw none.
They had the courage to recognize the insanity of the herd and take a different path.
How 'bout you?
You see, there's no need to hit the panic button or cower in the corner with the rest of the thin-skinned Chicken Littles every time someone yells, "the sky is falling."
Instead, it's the time to position and profit.
But first, understand that this is about taking action.
Please don't read along here and nod your head, and then go about your business as usual like most apathetic people would.
Take the next step… arm yourself with the right information and position yourself accordingly so you can profit.
Because remember, it's always darkest right before dawn, and this is one of the greatest times in history to challenge conventional wisdom and become very, very wealthy as a result.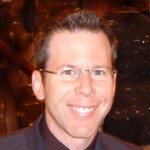 Brad Weinman Chief Research Analyst, M4 Insider
Brad is also the Co-Founder of M4 Research and Editor of The Renegade Money Guide™.
Editor's Note
: Now, over to Dr. Steve Sjuggerud, editor of
True Wealth
, for an update on his "Melt Up" thesis:
Here's what I recommend, given the current state of the market…
If stocks weren't cheap and hated, I'd be much more concerned about the trend. But stocks are cheap and hated. That means it makes sense to "wait and see" on the overall market.
We don't want to make big investments right now with prices moving lower. But we should be ready to snap into action once the trend moves back into place.
I still expect the Melt Up to propel stock prices to new heights. And I believe it'll happen in the next year. But we do need to be patient right now as prices move lower.
For now, our outlook for stocks is cheap, hated, and waiting on the uptrend.
What I don't expect soon is the next "Melt Down" in the market. We haven't seen the circumstances that usually happen before a major bust.
Plus, I'm waiting on one indicator before I hit the panic button…
I can't know the future, of course. But if you ask me why I don't believe the current correction will become the Melt Down, my answer is simple…
You see, one signal has flashed ahead of every market peak of the last few decades. And it has NOT signaled yet this time around.
This Melt Down indicator has a near-perfect track record… never missing a market top, and only giving a few "false positives."
We're now getting close to a signal for the Melt Down indicator. But we aren't there yet.
The indicator I'm referring to is interest rates. More specifically, it's the interest-rate "spread" between 10-year and two-year Treasury bonds.
This spread is important because long-term and short-term interest rates move for different reasons. Longer-term 10-year yields move based on the market. But short-term two-year yields move largely because of the Federal Reserve.
In a healthy market, long-term rates should be higher than short-term rates. Investors demand higher payments when they lock their money away for a long time.
The Fed has been hiking rates in recent years. Short-term rates have risen. Long-term rates have too, but not as fast.
This sets up an important potential signal. History tells us that when the yield curve inverts (and two-year yields move higher than 10-year yields), bad times are ahead in stocks. You can see it in the chart below…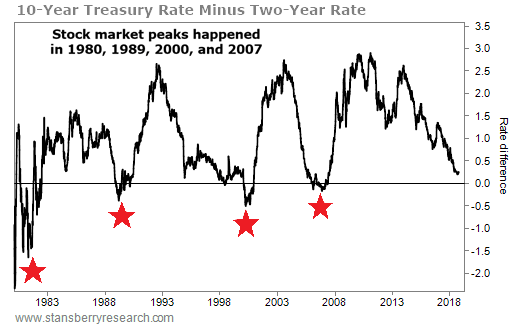 Stock market peaks happened in 1980, 1989, 2000, and 2007. They happened every time the yield curve inverted and the line dropped below zero.
This indicator has a near-perfect track record going back 40 years…
This indicator has been inching closer to zero in recent months, but we're not there yet. That's important. It tells me the current correction likely isn't the next Melt Down. History says the Melt Down shouldn't begin until this indicator moves below zero.
Not only that, but this tends to be a leading indicator. That means it doesn't signal at the peak… It signals before the peak.
Generally, stocks have another 12 to 18 months of good times after the yield curve inverts. We haven't seen an inversion yet, so we should expect the boom to continue at some point in 2019.
It's true that stocks are correcting today. The trend is down… for now. But if we look at the state of the market as a whole, there's no good reason to expect the worst.
Stocks are cheap. Investors hate the idea of owning them. And our Melt Down indicator hasn't flashed a warning sign yet.
I recommend waiting on the uptrend before going all-in on stocks. But I urge you to enter 2019 with a sense of optimism… not fear.