…which believe it or not, does not make me sad.
I admit that thinking about all of the greats of direct marketing who we have lost makes me reflective and sometimes a little melancholy…but I wouldn't trade the experience of having the best mentors in the world over the last 40 years (despite outliving many of them).
This phenomenon was inevitable.
When I was in my 20's and 30's, I gravitated to folks in the direct marketing business who were, I thought, "old" at the time—most were in their 60's and 70's—and of course my perspective on "old" is a lot different today.
Why did I gravitate to them over folks my own age?
Maybe because they knew a lot of stuff?
The benefits are obvious when you learn from the best practitioners who have much more experience than yourself…but the downside is obvious too since you won't have them at your disposal forever.
Or maybe you will…if you pay very close attention to everything you learn from them while they are alive…and continue to apply everything you learned from them long after they are gone.
The benefits of being educated well by your elders will far exceed the eventual losses.
You can never put a price on that education…and we all owe it to ourselves to keep our mentors alive for as long as we are alive (and long after they are dead)…and pass everything on to keep the train moving.
And I hope that what goes around comes around.
That is, 40 years from now, someone might be reflective, melancholy (and maybe just a little bit grateful) as they think about me not being around anymore either.
And hopefully I can leave a footprint that can be applied long after I am gone.
It's all about math, this "losing of mentors thing" –especially if you refuse to hang out with people your own age.
I turn 60 today, which would have been the age of my "younger mentors" when I was 20.
And since none of my senior mentors from the days when I was a lad lived to be 100, you can see why I am a little reflective and melancholy today…but mostly grateful on my 60th birthday.
I want to continue to share as much as I can—everything I have learned from the legends who shaped my career (and the careers of thousands in direct marketing) who are no longer with us.
But I promised this post was not going to be sad…and I am here to tell you that after six decades "above ground," getting old(er) doesn't suck. 
One of my mentors, Marty Edelston, often said to me, in order to be sure that I had the right idea about aging:
"I love getting older since it means I am only getting smarter." 
And if he was still alive today to have this conversation with me (which I know he would!), he would once again explain the difference between "60 years of experience" vs. "one year of experience for 60 years."
What that means:
Knowledge and wisdom are cumulative assuming you are a lifelong learner. 
Marty was a lifelong learner and he taught me to think that way too, which at its core means always having insatiable curiosity, always hanging out with people smarter (and often older)  than yourself and never letting your ego get in the way of learning.
If you are a lifelong learner too, I am preaching to the converted; however, I think some of the insights below might add to your thinking on this important subject.
Trust me…I really do love getting old(er)…read my post "Living to be 156" which talks about why living longer matters to everyone…and not just you.
"Getting old doesn't suck" is another way of saying how my first 60 years of experience will enable me to make even a bigger difference for my next 43 years (I'm not the one who will get to 156…that was entrepreneur coach Dan Sullivan's number…my number is only 103).
And no matter how immortal you think you are, and that you think you have lots of time to make your mark, you probably also lament that you could have launched something "bigger" at a younger age even if you have had lots of success in the past or present.
However, I don't think that is a useful way to think about it.
The time was right when it was right.
And it will be right again in the present or future when it's right.
There are two times:
"Now" and "not now."
In my case, since I've got those 60 years of life experience (and almost 40 years of direct marketing) under my belt, I always think the best is yet to come.
I hope you can think that way too no matter what you've done (and haven't done) in the past.
As long as you continue to learn and grow and make all of your knowledge cumulative, I am confident about your bigger future.
When I launched Titans Marketing, I thought through four pillars to my new business that would make it most rewarding…and how each one would build on and/or honor the mentors who shaped the world of direct marketing…mentors I owed so much to.
To continue with Brian's thoughts on this subject, click here…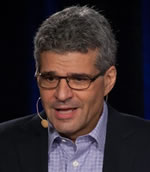 Brian Kurtz Direct Marketing Consultant
BRIAN KURTZ has been a serial direct marketer for over 35 years and never met a medium he didn't like … and while he's had much success, he also must admit that trying to sell subscriptions and books on the back of ATM receipts and under yogurt lids was only "a good idea at the time … "
Brian spent 34 years helping build Boardroom Inc. into one of the most successful and respected direct marketers ever.
During his tenure at Boardroom, Brian was responsible for the mailing of close to 2 billion pieces of direct mail (and, no, he did NOT lick every stamp!).
He was also responsible for the distribution of millions of other impressions and promotions in a wide variety of alternate media, both offline and online.
He was committed to working with the most innovative direct marketing techniques, and he is known for working with some of the greatest direct marketing consultants and copywriters who have ever lived and considers himself a lifelong student.