For 'Love' and 'Money'
 Encouragement:: We suggest that you read this word-for-word, top-to-bottom (i.e., don't skim it).  It truly has the power to help  you adapt to how you perceive the world, including what matters most between you and others in your life. 
Of all 
the

 "Hallmark holidays" I 

love 

Valentine's Day 

the

 best.

We eat much better chocolate than we eat at Halloween…it reminds us of the gratefulness we all celebrate at Thanksgiving…the generosity (and love) that surrounds the Christmas season…and then we can add hearts anywhere we like…and of course we all have an excuse to wear red and pink.

And rumor has it that sex may be part of the deal under certain conditions…in addition to the chocolate.

I started writing this blog on February 14, 2014, in honor and memory of Marty Edelston (my friend and mentor) who passed away in October of 2013.

It is no accident that the man with the biggest heart in the world was born on February 14th…yes, Valentine's Day is Marty's birthday too.

I kicked off this blog exactly four years ago, sharing a quote from my good friend Sean Stephenson, a psychotherapist, author and internationally known speaker, and I would like to share it again this year:
"I love everyone because as soon as I don't love you, you own me"
The lesson here is quite simple.
When we spend our energy NOT loving someone, we willingly hand over our power (and more than likely, our confidence) to them.
But if we work on eliminating the things in ourselves that keep us from loving others, what's left is just love and gratefulness (and more confidence).
Although I am far from a student of religion, Sean's quote seems to be like an extension from the quote from the Bible, "But I say to you, love your enemies and pray for those who persecute you."
The idea that we should always be loving everyone, wishing them well, is the best way we can move on to what is really important in our lives which is our own happiness and well-being.
I will add that whenever you are wishing bad things on others or arguing over the"principle of the thing," try to catch yourself and just get off it. Valentine's Day is a nice marker on the calendar for that.
And since fighting over "principle" often entails fighting about money (whether small or large amounts), I would like to share another important aspect about this from Dan Sullivan, the top coach for entrepreneurs in the world:
"Money is about the past; your capabilities, resources and relationships are about the future."
I know at the time you are "in the fight" and it seems too important to let go, I encourage you to at least step back and challenge yourself whether you are just fighting over principle…or money that will not change your life…or if you are just expressing a need to make the other person wrong.
Think about all the time and energy you might be spending making everyone else wrong, creating your own simmering  anger (and stress), which then just gets in the way of all the good stuff you could be focusing on.
Someone recently quoted me on Facebook with a quote that I did not author but it's one I try to live by…and I hope it's meaningful to you as you move through this Valentine's Day, loving everyone.
The quote goes like this:
"The only consistent feature of all your dissatisfying relationships is you."
Isn't it funny that the people in our lives who have the longest lists of people who have wronged them, made their lives miserable and caused unhappiness for them, rarely come to the realization that they are the CEO of their life and that there is only one thing (i.e. one person) that is present in all of those unfulfilling relationships
Valentine's Day is the best holiday for all the reasons I mentioned previously—the chocolate, the gratefulness, the generosity,the sex, and more chocolate…but the main reason it's the best is because it keeps things simple.
Since I can't send all of you a Hallmark card today, I'll leave it to the great songwriter Stephen Stills to share the simplicity of Valentine's Day (which is the title of one his hits) and this will serve as my card to you:
"Love The One You're With"
With love and gratitude (and wishing you an awesome "V-Day"),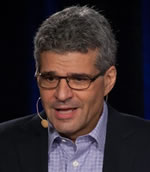 Brian Kurtz Direct Marketing Consultant
BRIAN KURTZ has been a serial direct marketer for over 35 years and never met a medium he didn't like … and while he's had much success, he also must admit that trying to sell subscriptions and books on the back of ATM receipts and under yogurt lids was only "a good idea at the time … "
Brian spent 34 years helping build Boardroom Inc. into one of the most successful and respected direct marketers ever.
During his tenure at Boardroom, Brian was responsible for the mailing of close to 2 billion pieces of direct mail (and, no, he did NOT lick every stamp!).
He was also responsible for the distribution of millions of other impressions and promotions in a wide variety of alternate media, both offline and online.
He was committed to working with the most innovative direct marketing techniques, and he is known for working with some of the greatest direct marketing consultants and copywriters who have ever lived and considers himself a lifelong student.
Editor's Note
: By the way, on our sister site (Risky.TV), we curated a very powerful video that ties in nicely to Brian's sentiment above.
It's a 4-minute motivational push to BE-come the change YOU want to see in YOUR world! We highly encourage you to watch and pass along THE Great Secret of Life video…