Crypto Rich List: Meet The 20 Wealthiest People In The Crypto World.
This story appears in the February 28, 2018 issue of Forbes. 
Subscribe
In the world of cryptocurrency, where billion-dollar fortunes can be made overnight, speed is everything — and CZ is the fastest of them all. From closet-size offices in Tokyo — "I would touch four people if I turned around in a circle" — the 41-year-old Chinese-Canadian coder runs Binance, a cryptocurrency exchange that has gone from a standing start to the largest on the planet in just under 180 days.
CZ (born Changpeng Zhao) cut his teeth making high-frequency trading systems for Wall Street's flash boys, and he built Binance to be a Ferrari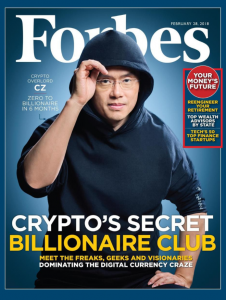 . His exchange can process a blazing 1. 4 million transactions a second and on a peak trading day in January processed 3.5 billion new orders, cancels and trades.
Speculators (some 25% of them from the U.S.) use Binance to trade 120 different coins, generating $200 million in profits for CZ's exchange last quarter. BNB, the virtual coin CZ created in August that gives holders a 50% discount on trading fees, has a market cap of $1.3 billion.
His stake in Binance and his coins give CZ a personal fortune worth as much as $2 billion.
He is hardly alone in becoming insanely and instantly rich from crypto. Chris Larsen, a longtime tech exec known for cofounding a string of fintech apps, saw his net worth flirt with $20 billion at the height of cryptomania in early January, based on his ownership of 5.2 billion XRP, the tokens of Ripple, the company he founded. XRP has since crashed 65%, but Larsen still tops Forbes' first crypto rich list, our (necessarily inexact) accounting of the 20 wealthiest people in crypto.
There are now nearly 1,500 crypto-assets in existence, valued at an aggregate of $550 billion, up 31 times since the beginning of 2017. While the prices of individual cryptocoins continue to swing wildly—Bitcoin is down almost 50% from its peak—it's clear that blockchain-based currency is here to stay and that these virtual assets have real, albeit volatile and speculative, value.
Black-market transactions, tax avoidance by individuals and sanctions-dodging by countries like North Korea fuel part of the demand, but so does a widespread excitement over the technology and an ideological desire for money to be free from the whimsies of nation-states.
The winners of this digital lottery differ from those in previous manias. The shadowy beginnings, at once anarchistic, utopian and libertarian, drew an odd lot of pioneers who ranged from anti-establishment cypherpunks and electricity-guzzling "miners" to prescient Silicon Valley financiers and a larger-than-usual assortment of the just plain lucky "hodlers" (the typo-inspired crypto jargon for "buy and hold" investors).

As in any gold rush, selling the pans and pickaxes—in this case, running exchanges—is proving a more reliable path to riches than speculation. And, of course, easy money—especially if it's viewed as a bearer asset—attracts scam artists and thieves.
Banking heir Matthew Mellon, whose $2 million investment in XRP blossomed into some $1 billion, learned that firsthand in January. The morning after a big bash, the 54-year-old recent divorcé says he discovered four people rooting around his $150,000-a-month Los Angeles party pad. (He didn't report it to the police.) The unwanted guests were probably after his XRP and they stole four laptops and two cellphones.
They didn't get Mellon's crypto-fortune—anyone with enough assets to make our list long ago figured out how to secure it. (Sorry, thugs.) In Mellon's case, the private keys are divided up and safely scattered in cold storage around the country in other people's names. But the incident underscores the weirdness that separates cryptomania from bubbles past.
Identifying the biggest crypto winners and estimating the scale of their wealth is no simple task. The virtual currencies exist almost entirely outside the global financial system, and the newly minted crypto rich live in a strange milieu that blends paranoid secrecy with ostentatious display.
Take CZ's Binance exchange. It has no real headquarters: Employees are scattered across several countries, and CZ himself seems to change locales the way others change clothes. "We dont want to be in one place right now because of regulatory uncertainty," says CZ. Last we heard, CZ and his trademark black hoodie had just popped up in Taiwan.
And CZ is downright normal by crypto-billionaire standards. Former child actor Brock Pierce (The Mighty Ducks, First Kid) dresses like a cut-rate Johnny Depp in Pirates of the Caribbean and is given to making grandiose statements from the balcony of his penthouse in Santa Monica, California.
"This is an opportunity to be a trillionaire—someone who is positively impacting a trillion living things on this planet," he tells Forbes. Pierce once raised $60 million from Goldman Sachs with the help of Stephen Bannon, President Trump's former chief strategist, to fund a company that sold virtual swords, chain mail and horses to role-playing videogamers.
He also once got into trouble with his partners in a 1990s-era dot-com startup after they were accused, in civil lawsuits, of sexual abuse of underaged boys. (Pierce has always denied the accusations and was never charged; one of his business partners, however, pleaded guilty to transporting minors across state lines for the purpose of sex.)
Pierce was early into the crypto game, first mining Bitcoin and then financing blockchain startups and investing in dozens of initial coin offerings. Although he publicly proclaims he is pledging a billion dollars to charity, he refuses to provide documentation that proves he has anywhere near that much money.
Given this opaqueness and crypto's hyper-volatility, we are presenting our net-worth estimates in ranges. We based our numbers on estimated holdings of cryptocurrencies (a few provided proof), post-tax profits from trading crypto-assets and stakes in crypto-related businesses.
We've also categorized our crypto rich list into five groups: 1. idealists, 2. builders, 3. opportunists, 4. infrastructure players and 5. establishment investors. Many fit into more than one category.
It's a near certainty that we've missed some people and that some of our estimates are wide of the mark. But this was equally true when we launched the first Forbes 400 list of America's richest people in 1982. At the time, many people said we couldn't—or shouldn't—publish it.
We did so anyway. And we firmly believe we made the world a better place by shining a light on the invisible rich.
Just as crypto has evolved from the days of the Silk Road drug site and the Mt. Gox digital hijacking, fortunes of this magnitude should never be allowed to lurk in the shadows.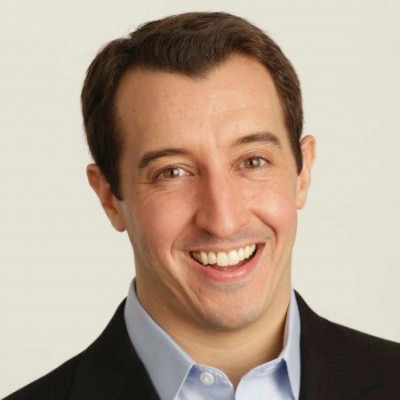 Jeff Kauflin Forbes Staff Writer
I cover cryptocurrencies, blockchain, fintech and investing at Forbes.
I've also written frequently about leadership, corporate diversity and entrepreneurs. Before Forbes, I worked for ten years in marketing consulting, in roles ranging from client consulting to talent management.
I'm a graduate of Middlebury College and Columbia Journalism School.
Have a tip, question or comment? Email me jkauflin[at]forbes[dot]com. Follow me on Twitter @jeffkauflin.
Read more: 
Why Forbes Created Its Cryptocurrency Rich List
Full List Of Cryptocurrency's Wealthiest People
Editor's Note
:   In addition to our own M4 altcoins portfolio (M4 Insider Members go to the
Money >> Multiply tab
after logging in), you can stay in the loop about ancillary profit opportunities in the crypto space by joining us as a
Bitcoins Wealth Club member
.
For instance, Brad just gave advanced notice to our referred BWC members  about a new automated crypto trading robot he has personally been testing for the past several weeks. The results he's been seeing so far have been impressive. Even in this recent down market, it's turned a profit. Out of 192 total trades, I've had 112 winning trades at average about 2.1%, totally passively without me doing any trading myself.
And, of course, you can join the M4i community anytime HERE. We serve-up a plethora of resources, contacts and unique methods to make, manage and multiply money..