The Rebel Playboy
[by Barry Goss] Before you dive into the article below, I highly recommend you watch the trailer (below) to American PLAYBOY. This is a 10-part docuseries; an Amazon Original that kept me fascinated second-by-second.
Like the beginning of the trailer says, we all think we know the story; but this riveting series will shed light on how 'Hef' and his wily-eyed crew of publishing rebels started with practically nothing and within just a few years started on a path of iconic brand-making stardom.
Truly, without reservation, I can't give this enough thumbs up, as it is one of the most well-done documentaries I've ever seen.  The best part about it is that it recreates some of the most infamous historical moments of our cultural life, starting in the mid 50's — from the social memes of the 'Leave It to Beaver' esk Utopian family… to the controversial people invited into the Playboy Club in Chicago… to the JFK assassination… to the sexual revolution of the 70's and beyond.
It interweaves the first person viewpoint of the protagonist (Hefner played by  Matt Whelan ) with short excerpts from past interviews to live footage from Hefner's personal archives.
If you want to know what drives a visionary; how one thinks, what keeps them motivated during challenges most would throw in the towel on, then this is the docuseries to watch:
R.I.P Hugh Hefner, one of the greatest marketers of all time…
The best marketing letter ever written was penned by Hugh Hefner in early 1953.
Hefner sent the letter to persuade the largest news stand sellers across America to take a chance on selling his new magazine "Stag Party" — the magazine that was to be renamed Playboy just two weeks before launch.
---
by Elliot Forte, Director at Business Think Ltd
At the time of writing, Hefner had borrowed all he could against the little assets he owned (furniture in his apartment being the main one) and had just $100 left in his bank account, far short of the amount needed to launch a magazine.
He had no writers (he was the main author of material initially, as he could not afford to pay someone else), no printer and no artwork. He typed the letter on a basic type writer at home, sitting at a card table in the living room he shared with his wife and newly born daughter Christie Ann.
In Hefner's own words:
"I really had no money at all – no money. Everything I had was put into that letter."
The letter was make or break for Hefner and his publishing dream.
If the news stand sellers did not respond positively and agree to promote his magazine, his business would be dead before it started and he would spend years paying off his debts
So why is this letter the greatest mailer?
Disarming But Charming
"We haven't even printed our letterhead yet" is probably the boldest start to a marketing letter in history. It openly admits that the company is yet to be set up properly.
Today this gambit would be viewed as high risk and most would say no one will read on. But actually the reverse was true. The frankness of this opening paragraph disarms the reader and leaves them little room to question company status. If the guy is going to admit that straight off the bat, what else can there be to hide?
Confidence Breeds Confidence
Despite no factual evidence to support his statement, Hefner is adamant that the magazine "will be one of the best sellers you've ever handled". There's no might, if, or could. It WILL be. In fact the entire letter is written as if the magazine is already a roaring success and that risk is not even a consideration.
Obviously the reader and Hefner realize the inherent risks in any business deal, but the fact Hefner is not willing to acknowledge the possibility of failure for a second breeds confidence. It is a promise, not a proposition.
Cloak of Credibility
We now know that Hefner was a one man operation. But Hefner viewed this as irrelevant. He had spent three years researching the market and secured the services, as a commitment only rather than a contract, of some of the best people in the industry. They hadn't actually DONE anything yet.
But that doesn't stop Hefner. He doesn't name the people, but he makes sure the reader knows they worked previously on Esquire (one of the most prestigious magazines in America at the time). Credibility is implied as a result.
A Unique Advantage
Midway through the letter Hefner hits his reader with the "big news" that he has the rights to publish a full colour Marilyn Monroe nude study. The original black and white Monroe calendar was a nationwide scandal. No one had yet been brave enough to risk the censorship laws.
But Hefner had nothing to lose and everything to gain. Reading a Life magazine feature about the calendar a few weeks before the mailing, Hefner noticed that the original printer was located in his home town Chicago.
He got in his car and arrived unannounced a few minutes later. Hefner walked out from that meeting with the rights to a single colour image of Monroe, investing his last $1000.
Clarity on the Commerce
Even in his introductory letter, Hefner sets out the contractual arrangement and potential for profit. The sale price will be 50c and you can buy it for 38c. Not only that, but we will refund copies you don't sell and pay your shipping.
The reader knows instantly what their margin will be on sales and a 24% return was generous enough to grab attention. Why wouldn't you go ahead? Incidentally a 50c sale price was double the rate for a magazine at the time. Hefner was not afraid to spell out the financial deal up front; in fact it was seen as a necessity.
No Pain and Lots of Gain
Hefner included a "postage paid air mail reply card" with every letter. He explained that he needed a rapid reply to take advantage of the opportunity. As with any direct marketing today, making it as easy and painless for the recipient to respond was seen to be critical by Hefner.
The letter is also short enough to be a relatively rapid and, consequently, no pain read.
Eye Catching
The highlighted words on the page are not accidental. The phrases in italics are "in full colour" and "on a returnable basis". The reader cannot easily avoid these messages. The capitalised words also tell a story.
Hefner knows the readership will have heard of Esquire. He writes the title of his magazine with equal emphasis, implying equal status.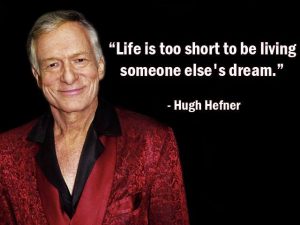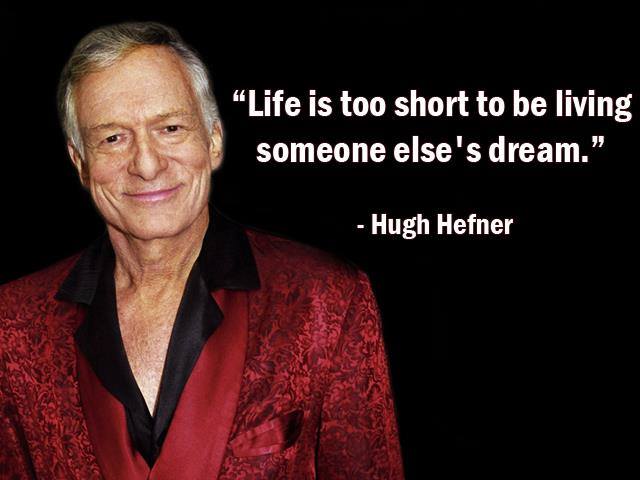 Even in 1953, people valued their time and the first read was always a scan for attention.
Of course the real genius of this letter is its simplicity. Hefner didn't study reams of marketing books. He was just 26 years of age when he sat down at his type writer and composed the message.
However, what he did have in abundance was a passionate vision for the future, one he had worked hard to prepare for market and was willing to share.
Hefner's letter convinced 23 of the 25 largest wholesalers in America to place large orders for a magazine that did not even exist. Issue one generated over 70,000 orders, double the amount Hefner needed to break even. The rest is history.
"They couldn't see a guy sitting at a card table. All they could see was a magazine being described as something like Esquire used to be." – Hugh Hefner
The first issue of Playboy magazine was printed in October 1953. Playboy Enterprises generated revenue of $215 million in 2010 and is one of the most recognisable brands in the World.
[Editor's Note]: The above letter dissection first appeared on BusinessThink.co.uk on May 1st 2015