An Exclusive Rolodex of Alternative Investments & Uncommon Cash-Flow Opportunities
"The guy is slightly past 40… just got fired from his 3rd job. He's bright though. He just doesn't find his way in life without outside input and direction.
"He told me he'd get back to job applications after he attends a weekend music festival in another state."
That, my curious reader, is precisely what an acquaintance of mine revealed about her close friend.
She's confused. Concerned.
On one hand, she feels for the guy. After all, he's trying. Then again, his priorities aren't quite where she feels they should be.
He has seen the alternative band (the one that is the headliner at the festival) six times over a decade. Talk about commitment!
But if you're down a J-O-B, do also just casually 'get back around' to finding another one… when the time is right?
Or, do you suck it up and sacrifice some entertainment in favor for a better financial future?


Over the years, we've had many subscribers (non paid members) come to us with the same mindset as the guy above.
(lets just call him Mr. Dilly-Dally)
They, like Dally, want better income… … they want different ways to grow their savings outside the ho-hum ways they've been taught by the mainstream outlets.
They desire to speed-up their wealth-building through unique, little-known and vetted investments.
Yet, they ALSO need a constant source for distraction.
Business sage, Seth Godin, recently made a quip about people who can't (or, maybe just don't care to) break-free from the 9-to-5 chains:
"Protect yourself, do as little as you can, because the boss will always take more. This is the standard, and the source of the expression about watching the clock."
To be fair, there's nothing wrong with having W-2 kinda income. There are some incredibly fun, life-enhancing, well-paying jobs to have.
So, it's motivation — drive and ambition… and a willingness to go ABOVE and BEYOND the "norm" — that I'm riffing about today.
I don't believe anybody can offer-up motivation as a service for sale.
It has to come from within!
Sparked in the deepest recesses of our human BE-ing.


Subscriber Tonya H. recently wondered:
"Why do I have to risk my money on opportunities that aren't guaranteed or have no fallback if something doesn't pan out?"
Tonya is a classic example of that belief of mine. She's motivated, but she just needs a whiff of (outside) inspiration to take a chance on herself.
I often give a very short answer to that type of question.
It's this:
You don't!
But, then, I get more generous with my advice:
You, dear Tonya, always have FDIC-insured savings accounts to use. Or, you can lend your dinero to Uncle Sam online (T-bills) and pretty much have the rock-solid assurances you desire (short of a Red Dawn or zombie-outbreak situation making Uncle Sam a bit frail).
The longer (and more sincere) answer:
If you want to do more than just 'get by' in the coming years ahead, then you've got to take the blinders off and 'zig' when everyone else 'zagging'.
For example, there are all kinds of unique ways you can use technology to automate your money and be able to earn enough to spend, guilt-free, on whatever you want.
You can learn to invest in alternative assets like cash-flowing apartment buildings, music royalties, art, classic cars, etc — all from the comfort of your computer.
It's easier than you might think.
And you don't need to be a Rockefeller, or some other high-flying 1%er, to do this.
It all boils down to getting access to the right information.


Here, I'll just show you: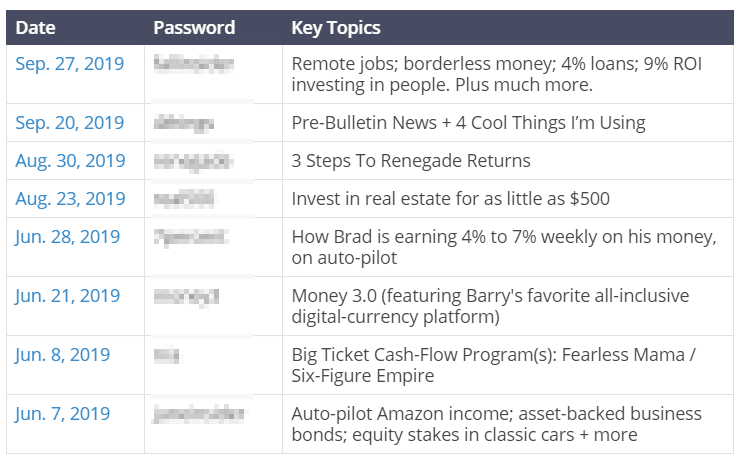 The above is a screenshot of our key M4 Insider (M4i) members' Bulletins since June.
If you were a paid-up member, you'd have received an email to login.
Then, all you'd have to do is click on the hyperlink in the Date column, take the displayed password (understandably blurred out) and you'd be on your way to learning about the topic of your choice, Mate (pick your pleasure).
And, we have another Big Bulletin coming out soon.
One smothered with all types of programs and vetted ideas you can immediately use to EARN more cash and GROW your existing discretionary funds.


A few teasers:
I'll be sharing the best buy-low / sell-high opportunities in Uranium. Yup, Yellow cake.. .the radioactive material / commodity that a M4 'brain-trust' expert says is poised to be the trade of the decade.
And, for my last preview, I'll be passing along an insider show 'n tell video from one of my e-publishing colleagues. In it, he'll show you step-by-step how to use the most powerful plug 'n play software on the planet to sell "stuff" — even if you don't really have anything to sell.
Sounds a bit convoluted, I know.
Still, its actionable knowledge you can immediately take to the bank.
That, my dear ambitious inspired friend, is what we do around here!
Pass along pre-screened methods to help our members start living their life free from a 9-5 desk job; to help them enhance their net-worth quicker than what the "professionals" say is possible.
And, frankly, we don't ask for much in return. Just a simple commitment in yourself.
And it all starts here…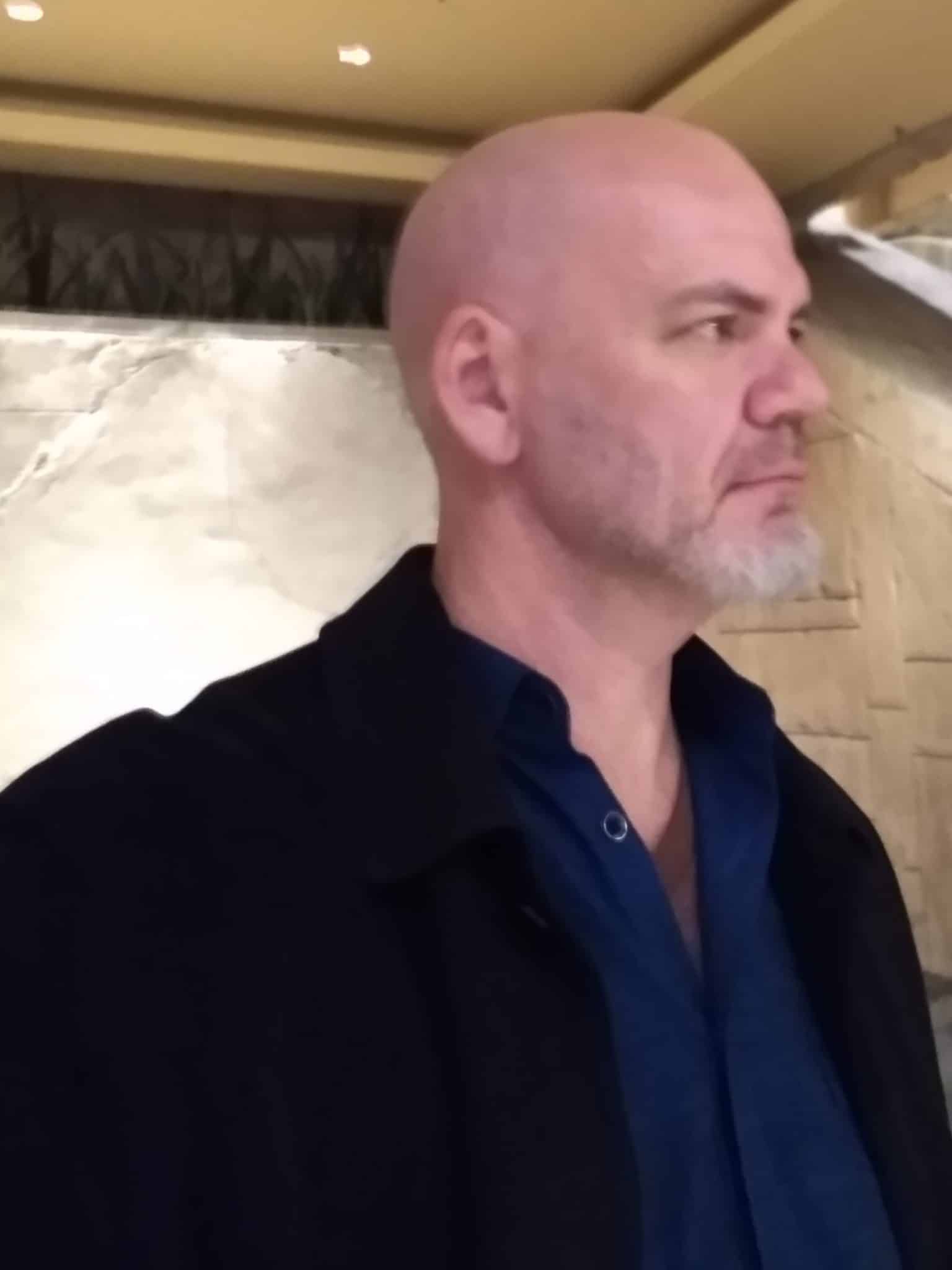 Barry Goss Managing Editor, M4 Insider
Barry is also the Co-Founder & Publisher of M4 Research.