10 Invaluable Things You Rarely Hear About Entrepreneurship
They say that the only way to self-mastery is by assuming absolute control over your life processes. Entrepreneurship is one of the activities that can have a massive impact in that respect.
It is an activity that will not only allow you to take matters into your own hands but also reveal the essence of the words responsibility, discipline, and productivity in all its glory.
In this post, I will reveal some things that you seldom find on the headlines of famous media outlets.
These are things that you learn only when you have hands on experience in the area and you have spent days and nights trying to polish your strategies. My hope is that by revealing these things I will save you time, money, energy, regrets and unwanted conflict.
Whether you are an entrepreneur already, or you are thinking to start your own business, this article will prove invaluable along the way:
1. ENTREPRENEURSHIP BOILS DOWN TO COMMON SENSE
…but common sense isn't always common practice. That's something a former colleague of mine told me while I was working as a business consultant. This simple yet powerful remark has stayed with me, and I keep referring to it, till this very day.
The real question, however, is this: what does common sense look like and how do I know I have it?
Common sense is nothing more than good sense and sound judgment in practical matters. Some examples include:
You can't hire someone just because you know them. It is common sense that you need to evaluate their background and identify whether or not it fits the type of product you sell.
You can't look and act unprofessionally. It is common sense that if you look and act that way nobody will trust you.
You can't expect your sales people to improvise on how to promote your product. It is common sense that you need to train them and provide them with the necessary material.
You need to create an accurate image of your ideal customer. It is common sense that you need to know your customers in order to find them, understand their needs and target them accordingly.
I will elaborate on most of these and some more below.
Additionally, you identify common sense by detaching yourself from your ego and by stepping into your customer's shoes.
When you start your own business, you are blinded by your ego. It is the same feeling you get when you have your first child. Your business is your baby. You have an idea of how to raise it, but because it is your "possession" you can't see things objectively, oftentimes reverting to unorthodox practices and behaviors. Even if you do things wrong, you are convinced that you do things right. Most of business owners fall into this trap and therefore suffer dramatically.
I understand that when you do things wrong and you eventually have to face potential change, more often than not, you develop resistance towards change. That's because of laziness and because of fear of change. You aren't sure what to expect and you don't know if the required change (which will certainly require time and money investment) will yield the expected returns.
Well, I can assure you that if things aren't going as planned, change is the surest way to go. To quote Albert Einstein:
"Insanity: doing the same thing over and over again and expecting different results."
2. YOUR IDEA IS WORTH NOTHING AND TRACTION IS EVERYTHING
Two years ago, I attended an amazing entrepreneurship conference called Pioneers Festival. One of the speakers was Philipp Moehring from Angelist who gave a prodigious speech on what investors look for when they evaluate your company.
In one of his slides, he mentioned this: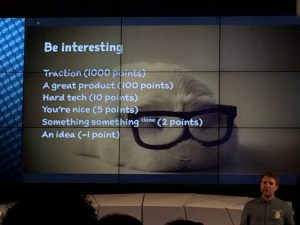 This is a ranking of factors when it comes to product evaluation. As you can see, the idea gets -1.
That is something incredibly important to grasp. Your idea, no matter how innovative you think it is, no matter how interesting it sounds in your head, no matter how much research you have put into it, is worth nothing.
If your team is not great, if your execution is not close to perfect, if you haven't properly identified your niche, if you don't understand your customer's needs, the idea is worth nothing.
Which brings us to the most important part when it comes to product and business evaluations: Traction.
If your product is converting, if it is generating revenue and if it is attracting interest, it is a great product.
Do me a favor and watch Shark Tank. You will notice how the eyes of the sharks shine whenever the entrepreneur mentions good numbers in the users acquired or sales accumulated over the past year (regardless of the industry or type of product).
Great investors know that once your product generates traction and reaches product-market fit, it has the potential to become a gold mine.
The reason I stress the importance of this is because some wannapreneurs have two bad habits:
Are secretive about their ideas.
Give insane evaluations to their companies when they are actually worth nothing.
So, the main principle here is that, in the beginning, you have to assume that you know nothing and that your idea is worth nothing.
Now you are more humble and you can make sure that you will focus on the fundamentals of your business.
3. IF SOMEONE TELLS YOU THAT BRANDING ISN'T IMPORTANT, RUN AWAY
I have heard people on the Internet suggest that as far as your product is great, your branding doesn't matter.
This is wrong and dangerous. When someone tells you that, they are either ignorant or they are leaving a lot of money on the table.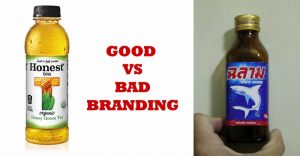 The reason is twofold:
Humans are visual creatures. We are attracted to aesthetically pleasing views and we will always favor something beautiful to something ugly.
Every successful salesman and marketing person will tell you that most buyers are impulsive. They don't always buy something because they need it, but more because they are convinced that they need it. Part of that convincing is how the product looks.
That said, I am not suggesting that it is ok for your product to be average and that you should spend most of your time on marketing and branding.
What I suggest, is that you should spend an equal amount of time on creating a great product and on promoting it successfully.
Great branding makes your product look professional and people can trust you easier.
Every product out there has to face competition. Successful branding is one of the surest ways to make your product stand out.

Andrian Iliopoulos Thinker, Blogger, Entrepreneur
Andrian writes about anything that fanciws his interests and revolves around the practical philosophy and self-development sphere. He even dabbles into politics and cultural issues too..
Editor's Note: To read the next 7 of Andrian's incredibly useful insights, check out the original post from HackerNoon.com here…