When Money Becomes Worthless
This is a key excerpt, or the ending punchline, to the excellent article How to Preserve Your Wealth Through the Next Crisis, which was first published by Legacy Research Group on December 24th 2018:
By now you're probably wondering: What can you do to protect yourself?
Remember, "There's always money in the banana stand."
This was a joke on the popular TV show Arrested Development. Cash had been hidden in the family's frozen-banana stand.
George, the father, tells the family repeatedly that "There's always money in the banana stand." But they don't realize that he means it literally.
He has hidden $250,000 in the stand, which goes up in smoke when it burns down.
But there's no ambiguity in the version of French economist Jean-Baptiste Say. In 1803, he said that "Products are paid for with products."
To him, "There's always money in the banana stand" means the only source of wealth is real output.
Yes, you should have some money in cash. And yes, you should own gold, too. Gold is cash. It is still the best form of cash and still the best bet for preserving wealth over the long haul.
But the bulk of your wealth – if possible – should be in banana stands or other things that produce products or services.
Farmland. Timber. Mining concessions. Hotels. Apartment houses. Dry cleaners. Car washes. Pawnshops. Basic things that people want and need.
In the story at the beginning of this letter, in the midst of the hyperinflation in Germany, the narrator worked for a funeral parlor. Money became worthless.
But people still died, and their relatives still wanted to mark their graves with tombstones – including the black obelisk.
When the crisis was over, two things were still valuable – gold coins and the funeral business.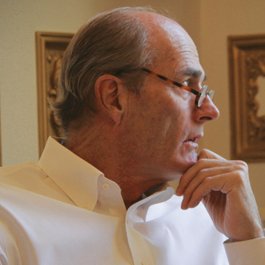 Bill Bonner Chairman, Bonner & Partners
Mr. Bonner is the founder and president of Agora Inc., one of the world's largest independent newsletter publishing companies, and the author of the free daily e-mail Bill Bonner's Diary.
In Bill's words: "Agora publishes ideas … useful ideas. Ideas, information and opinions that make people more independent … financially, physically, and intellectually."
Bill is the author of several best-selling books, including New Empire Of Debt and Financial Reckoning Day, both written with Addison Wiggin; Mobs, Messiahs, and Markets, written with Lila Rajiva; and his latest, Hormegeddon.
Editor's Note:  Mr. Bonner has always stuck us as a super-reasonable and keep-it-real man of honor and big-picture views. For instance, when he says "gold is cash," we don't take that at anything but face-value. Because, well is it (eh, well, sort of. See below).
In other words, we don't feel he falls under the "gold bug" label, or has some back-to-the-old-west ideology, just because he's being straight-forward about what could occur in the future: A flight to real assets that people will want to use for trade and exchange.
We have a few posts HERE about some further perspective on the Midas metal and its role in a potential technology-shit hits the fan scenario. But, while you've read this far, here's an excerpt from our very own Barry Goss' timeless article: We're Bullish on Human Beings:
When I hear talk from gold bugs transition into their desires to also allocate money in other tangible hard assets, like home, property, art, fine wine, collectibles, etc., I actually am pleased to see their cognitive abilities expand a bit.

Yet, a majority of those same bugs still can't grasp their foundational reason to hold the shiny metal in the first place.

Gold is money, not an investment.

About the "money" part, certainly it could still be used as a medium of exchange, but until the day comes when society-at-large no longer wants to have faith in using their debit cards and other digital forms of monetary transactions at WalMart, just accept the fact that GOLD is truly more like 'backup money,' not necessarily ideal in this new-tech day and age.

About the "investment" part, gold doesn't accrue interest, it doesn't yield dividend. It, again, due to it's history could be used as universal money. Not necessarily practical money, but…[another lesson for another time]

In short, you don't buy gold to be rich, you buy gold so as to not be poor. Just like you don't buy a house to be rich, but to have a roof.